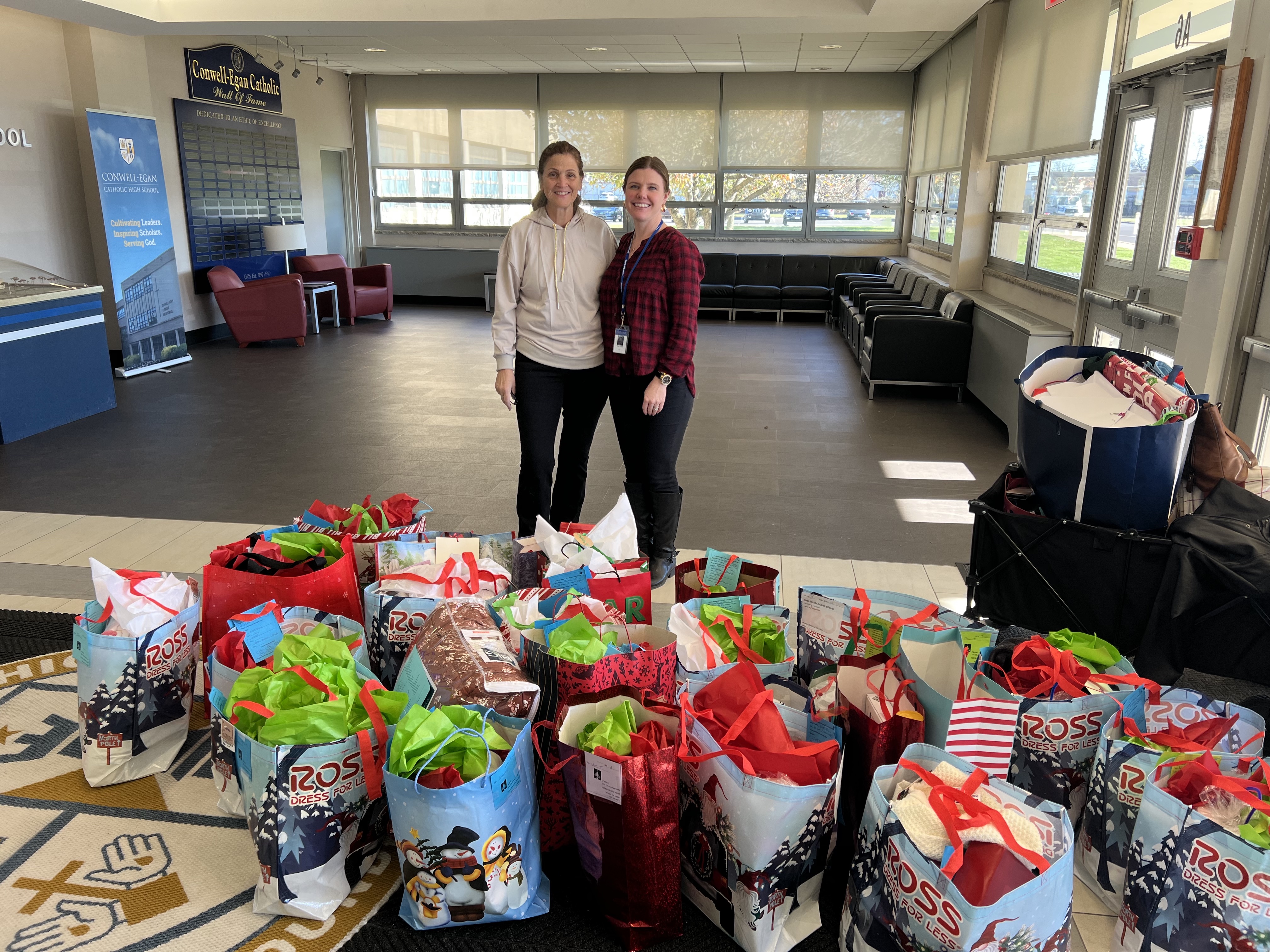 The Christmas Gala Executive Director Cheryl Campbell and DLFF Scholar Program Director Maggie Fischer standing with Angel Tree Tag gifts.
This winter, DLFF Scholars partnered with The Christmas Gala, a non-profit organization focused on assisting local seniors, primarily in Bucks County, Pa. The non-profit is led by Executive Director Cheryl Campbell. The organization's multifaceted mission assists seniors with everyday, essential, and emergency needs to help them stay in their home as long as possible; educates the greater community of Bucks County on the critical needs of the senior population; and empowers the public to provide assistance that will improve the lives of the low-income aging community.
The Christmas Gala service team, led by DLFF's Scholar Program Director, Mrs. Maggie Fischer, provided scholars the choice to work on one of two opportunities within the organization – The Angel Program or Surprise a Senior. The service team's Quarter 1 scholars ran a gift collection through Conwell-Egan Catholic High School, ultimately collecting gifts for over 50 local elders.
DLFF Scholars from the Christmas Gala Service Team partnered with the DLFF Creative Arts Team to visit nearby senior centers on Tuesday, December 20, and Wednesday December 21 to help spread Christmas cheer. The team's "Christmas Carols and Cheer" event, led by Creative Arts Development Partner, Jahmai Person and Director of Performing Arts, Tom Kuchler, included scholars passing out gifts to senior citizens, making Christmas crafts with the seniors, and singing Christmas carols.
Quarter 2 scholars on the service team will be participating in the Surprise a Senior program by collecting everyday needs such as toilet paper, paper towels, toothpaste, tooth brushes, soap, snacks and more; they will then sort the items into hand-decorated gift bags and deliver the goodies to the doors of local seniors.
The Christmas Gala service team scholars have put in a total of 25 hours of service to date, but that number will climb throughout Quarter 2 as the scholars continue their work with the non-profit. DLFF Scholars Jonathan Hall and Alexander Lucano impressed The Christmas Gala Executive Director with their gift bag packing skills. Participants Brooke Bannon, Brooke McFadden, Brianna McFadden, and Megan Werner fine-tuned their organizational skills while sorting gifts and packing bags. Freshmen students Cameron Browne and Alessia Romano did not hesitate to get involved in their first service team project with DLFF. All of the scholar participants learned important life skills such as collaboration, leadership, and initiative.
Thank you to Cheryl and The Christmas Gala for their continued partnership with DLFF. We are proud to support such a wonderful organization this holiday season.
About The Christmas Gala:
The Christmas Gala is a non-profit 501c3 organization focused on assisting local seniors, primarily in Bucks County, Pa. To learn more, please visit https://www.thechristmasgala.org