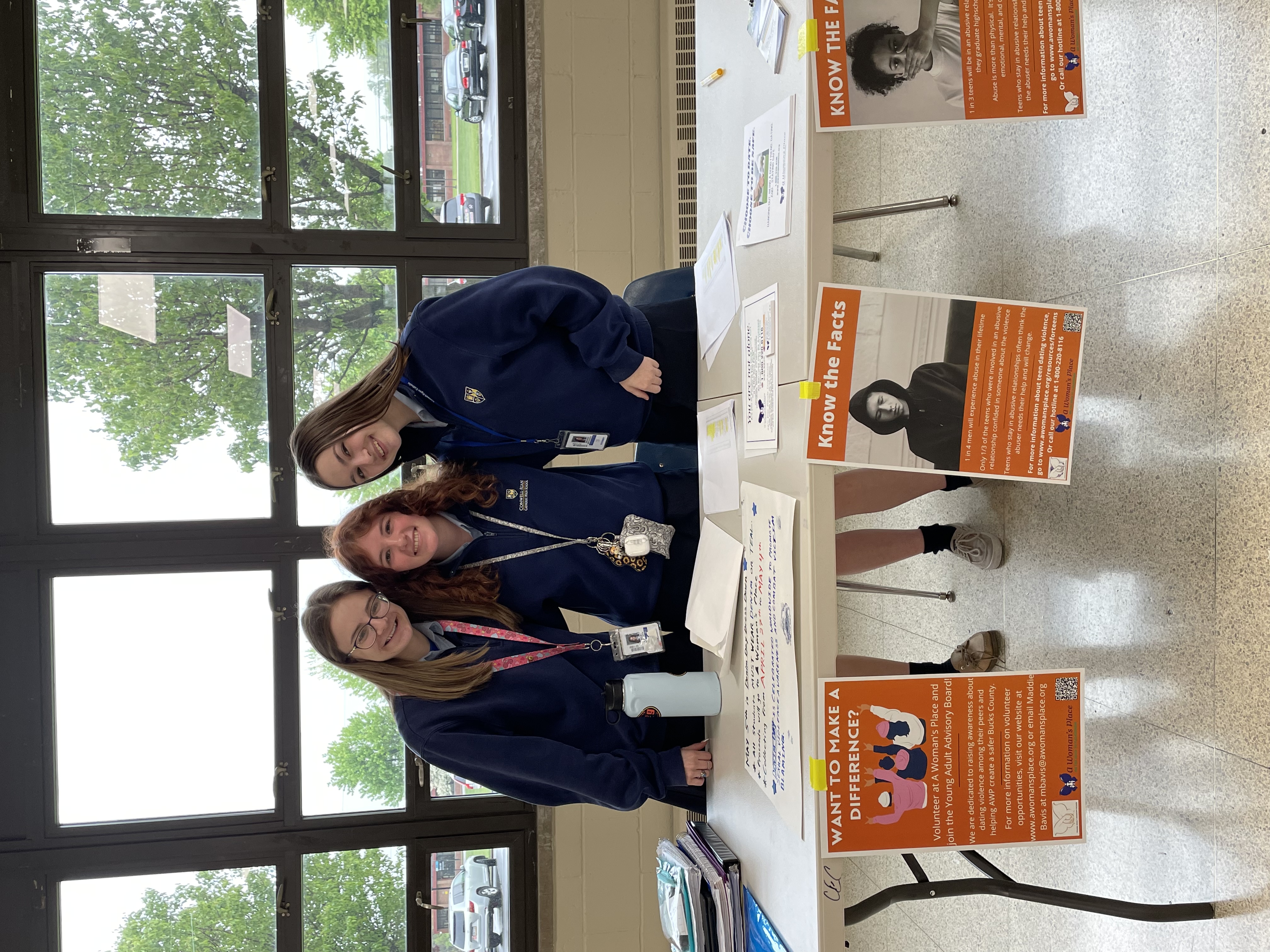 Left to right: Hailey Morath Class of 2023 DLFF/CEC Scholar , Monica Cunningham Class of 2024 DLFF/CEC Scholar, Brianna McFadden Class of 2024 DLFF/CEC Scholar.
On Wednesday, May 11, DLFF scholars, with the help of scholar mentor Mrs. Kathy Shedga, participated in a dress down day fundraiser held in honor of Denim Day. This international day of action and awareness is an event in which people are encouraged to wear denim to combat victim blaming and educate others about sexual violence.
The Denim Day campaign was established in 1999 and is supported world wide. The official Denim Day website states: "For the past 23 years, Peace Over Violence has run an inspiring and powerful opportunity to practice solidarity and support survivors by renewing our commitment to exposing harmful behaviors and attitudes surrounding sexual violence. Denim Day is a campaign on a Wednesday in April in honor of Sexual Assault Awareness Month". To learn more about the Denim Day campaign, please visit https://www.denimdayinfo.org/about
Students were able to dress in denim or teal (color of sexual assault awareness) for a $2 contribution. This fundraiser was a great success and scholars were able to raise a total of $550 for A Woman's Place of Bucks County.
"This was our first Denim Dress Down fundraiser that we held, and it was a huge success. We are happy to raise money for a great cause, and plan to hold more Denim Dress Down Days in the future to come" said Shegda.
About A Woman's Place
Founded in 1976, A Woman's Place (AWP) is the only domestic violence community benefit organization in Bucks County, Pennsylvania. AWP provides a full range of programs and services to individuals experiencing domestic violence, their children, and the community.