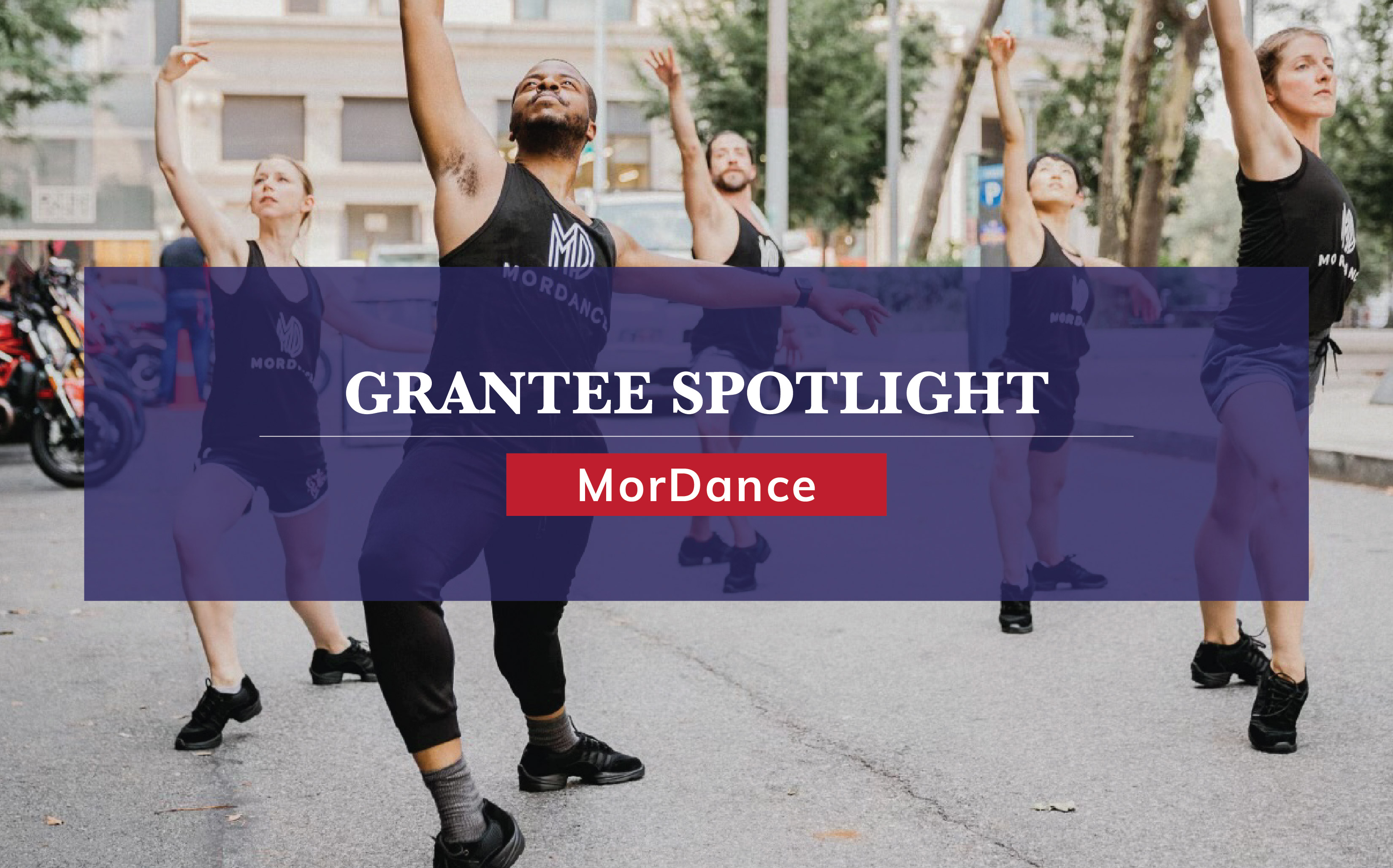 DLFF is a proud partner of MorDance. Located in New York City, MorDance is a women-led ballet company that strives to innovate, elevate, and diversify the ballet landscape to convey a true reflection of our contemporary world. This month, we sat down with Founder, Artistic Director, and Choreographer Morgan McEwen and asked her to reflect on the impact of DLFF's support for MorDance.
Our grantee spotlights allow us to highlight the wonderful work of our community partners and see what the impact of our support can accomplish.
DLFF's partnership with MorDance truly allows for a variety of opportunities to unleash potential - for audiences to experience art and open their mind to reimagined traditions; for underserved youth to gain access to discovery and meaningful experiences through dance; and for underrepresented perspectives to be given center stage.
Part of MorDance's mission is to expand the possibilities of classical ballet, and with DLFF's support, MorDance has been given the chance to transform potential in reality. Through public performances, in-school workshops, and collaborating with artists from historically marginalized backgrounds, MorDance has been able to deliver on that mission. Even throughout the challenges of the COVID-19 pandemic, MorDance has remained consistent in its ability to create new avenues of bringing art to its audiences.
"MorDance's commitment to youth empowerment through the future of ballet begins with nurturing the creative expression of young people who are most impeded from participating in the arts in the first place."
DLFF is proud to support MorDance and its mission to create a more inclusive landscape for the future of ballet.
From Founder and Artistic Director, Morgan McEwen:
In 2015, DLFF took a bet on our young but burgeoning organization and our vision to make ballet accessible for all. This leap of faith has led MorDance to nine seasons filled with surpassed goals, impactful artistic collaborations and performances, and new audiences touched by the art of ballet. With DLFF's continued support, we have been able to further our commitment to greater diversity, creativity, and accessibility in our field and throughout our organization.
DLFF has helped bolster our work with NYC Public Schools and our ability to maintain historically low ticket prices for public performances. Our youth outreach initiatives have grown tremendously, allowing MorDance to provide nearly 200 free tickets annually to families with children in programs such as Ballet and Beyond and the Bronx Academy of Music who otherwise would not have access to live ballet performances. This past year alone, we were able to connect with over 600 students across New York City through in-school dance workshops and 500 students during our free full-length performance at Symphony Space.
MorDance believes that youth engagement begins with the opportunity for personal discovery, wonderment, and meaningful experiences. Time and again, we have witnessed the confidence imparted by dance and how it opens doors to success in the arts and beyond. As the vast majority of students MorDance serves live in under-resourced communities and do not have regular access to arts education, our youth workshops and performances provide especially memorable opportunities for inspiring a new generation of creative citizens.
DLFF's investment in our organization has truly been an investment in all of the lives MorDance has been able to impact over the last 9 years. It has allowed us to better envision an equitable future where all people, regardless of circumstance, have access to the arts. As an organization founded and driven by women in an industry dominated by male leadership, MorDance has been committed to promoting underrepresented voices and perspectives from the very beginning. DLFF has supported this fundamental goal, visible through the diversity of our audiences, community partnerships, and our dancers representing a cultural spectrum. Not only world-class performers, our dancers stand as advocates for communities who have been historically excluded from the field of ballet. Our artists importantly reflect the communities we serve, including artists of color, immigrant artists, women artists, and artists of the LGBTQIAP+ community. The visibility of cultural pluralism among the MorDance organization is an embodiment of our mission. It has cultivated indispensable connections with audiences as we strive to inspire new precedents for the ballet industry and overarching dance community.
Overall, MorDance holds an unwavering belief in the capacity of dance to express and negotiate complex issues through its unique power to transcend language. The ballets that we create center themes of activism and humanity, transforming challenging topics surrounding race, gender, and the environment into captivating movement. We believe every ballet we create is an opportunity to use our platform for dialogue, education, and awareness. Each performance is a chance to inspire new audiences with beauty as a means of fostering empathy, civic engagement, and social responsibility.
The support of DLFF has enabled us to arrive at our 10th Anniversary in 2023 with a greater capacity for growth and artistic excellence. This landmark season will epitomize the breadth of our artistry and our commitment to breaking barriers in pursuit of a more dynamic future for ballet.
MorDance is a trailblazing, women-led ballet company striving to advance accessibility, diversity, and creativity in ballet by fostering empowered environments for artistic expression. To learn more, visit http://www.mordance.org.