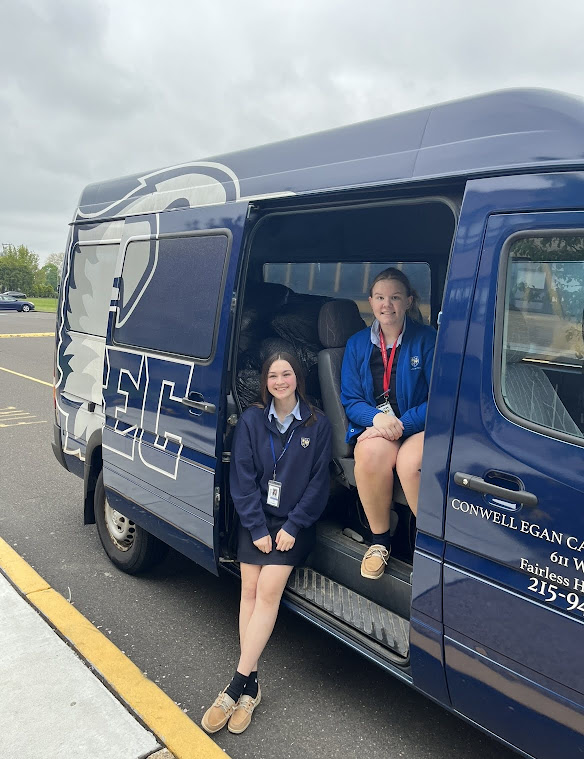 Pictured: Brianna McFadden (left) Class of 2024 DLFF/CEC Scholar with Courtney Anderson (right) Class of 2022 DLFF/CEC Scholar.
The second annual Network Of Victim Assistance (NOVA) of Bucks County clothing drive at Conwell-Egan Catholic (CEC) was a great success. Between April 20 to April 29, DLFF CEC Scholars Courtney Anderson ('22) and Brianna McFadden ('24) organized a friendly competition between lunch periods to collect clothes for the NovaBucks Thrift Shop.
The drive collected items such as gently used clothing, gloves, hats, scarves, handbags and shoes. All proceeds were raised to help the 1 in 10 children that will experience abuse.
Fourth period lunch brought in the most donations and were treated to Duck Donuts on Monday, May 2nd. After school that day, Mr. Anderson took Courtney and Brianna to drop off all of the donations to Nova.
"My favorite part was contacting NovaBucks and learning about the ways they help children experiencing abuse, and finally dropping all of the clothes I worked so hard to collect to Nova's thrift store" said Courtney.
Thank you Courtney for doing another wonderful job with this clothing drive! We look forward to Brianna taking over the reins for the project next year.
About NovaBucks:
Network of Victim Assistance (NOVA) was founded in 1974 as Women Organized Against Rape (WOAR). It was the first and continues to be the only rape crisis center in Bucks County. During the early to mid-1980's when the federal government began to acknowledge and address the needs of victims of crime, WOAR was expanded to become Network of Victim Assistance, the comprehensive victim service