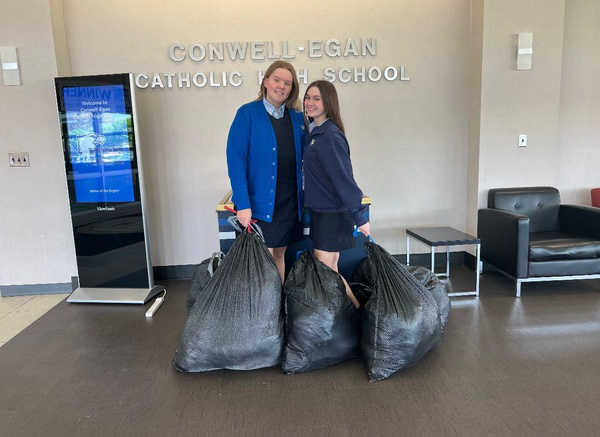 Pictured: Courtney Anderson (left) Class of 2022 DLFF/CEC Scholar with Brianna McFadden (right) Class of 2024 DLFF/CEC Scholar.
As a part of our Scholar Spotlight series, we sat down with DLFF scholar Courtney Anderson to get to know more about her, her leadership, and various service projects shes worked on within DLFF.
Courtney is a recent graduate in the Class of 2022 from Conwell-Egan Catholic High School (CEC). Courtney is passionate about helping people in need and finds joy in giving back to the community. Aside from the classroom and community service, Courtney's favorite activity is playing on the girl's volleyball team at CEC, where her father is also the coach.
In the spring of 2021, Courtney's leadership qualities shined as she organized a clothing drive at CEC for the non-profit Network Of Victim Assistance (NOVA) of Bucks County. NOVA Bucks is a non-profit organization that supports, counsels, and empowers sexual assault and other serious crime victims in Bucks County. The clothing drive benefits NOVA Bucks in two ways: domestic violence clients are given gift cards to shop for free at the thrift store; and profits from the shop's sales support programs and services for domestic violence victims. Courtney feels passionate about this clothing drive because she feels that the topic of abuse is very important and that it needs to be recognized more. "I enjoy being a voice for the voiceless," said Courtney.
This past spring, Courtney impressed DLFF again, as she led and organized her second clothing drive for NOVA Bucks at CEC. Courtney, with the help of her friend and fellow DLFF scholar Brianna McFadden (CEC Class of 2022), organized a friendly competition between CEC's lunch periods to clean out their closets once again for a good cause. The clothing drive was a hit, and the winning lunch period received a special treat from Duck Donuts for bringing in the most donations.
Courtney's favorite thing about this service project was contacting NOVA Bucks and learning about the ways they help children experiencing abuse. She also enjoyed dropping off all of the clothes that she and her classmates worked so hard to collect. Courtney will be passing the torch to Brianna next year, adding, "I look forward to ensuring NOVA Bucks continues to receive our support. I am incredibly proud and thankful for this drive and I know it will continue to succeed even when I am gone."
Courtney was also recognized by Representative Brian Fitzpatrick in fall 2021, and awarded with a flag flown at the US Capitol for her outstanding service to the community. She was also elected as a member of DLFF's Scholar Leadership Council (SLC) back in November.
Courtney is inspired most by her DLFF group mentor, Mrs. Pam Lynch. "Mrs. Lynch inspires me to be the best me I can be and has taught me how to help my community even in the smallest ways," added Courtney. "I have learned that I feel the most joy and fulfillment when I am helping others. I feel that my years with DLFF have helped guide me to my future career path in Nursing. With the experience of helping others in need, I know that is what I want to do with the rest of my life."
"We are so fortunate to have had Courtney as a student scholar these last four years," said Pam Lynch. DLFF is so proud of all the hard work she has done within our organization and in the community. Courtney will be attending Temple University in the fall to pursue a degree in Nursing.
Courtney was recently awarded the J. Russell Fawley Scholarship for Undergraduate Nursing Education in the amount of $21,000 for the 2022-2023 academic year. Courtney was selected for the award for demonstrating high academic achievement and for her leadership in DLFF's community service program over the last four years. Courtney is a true example of unleashing potential.