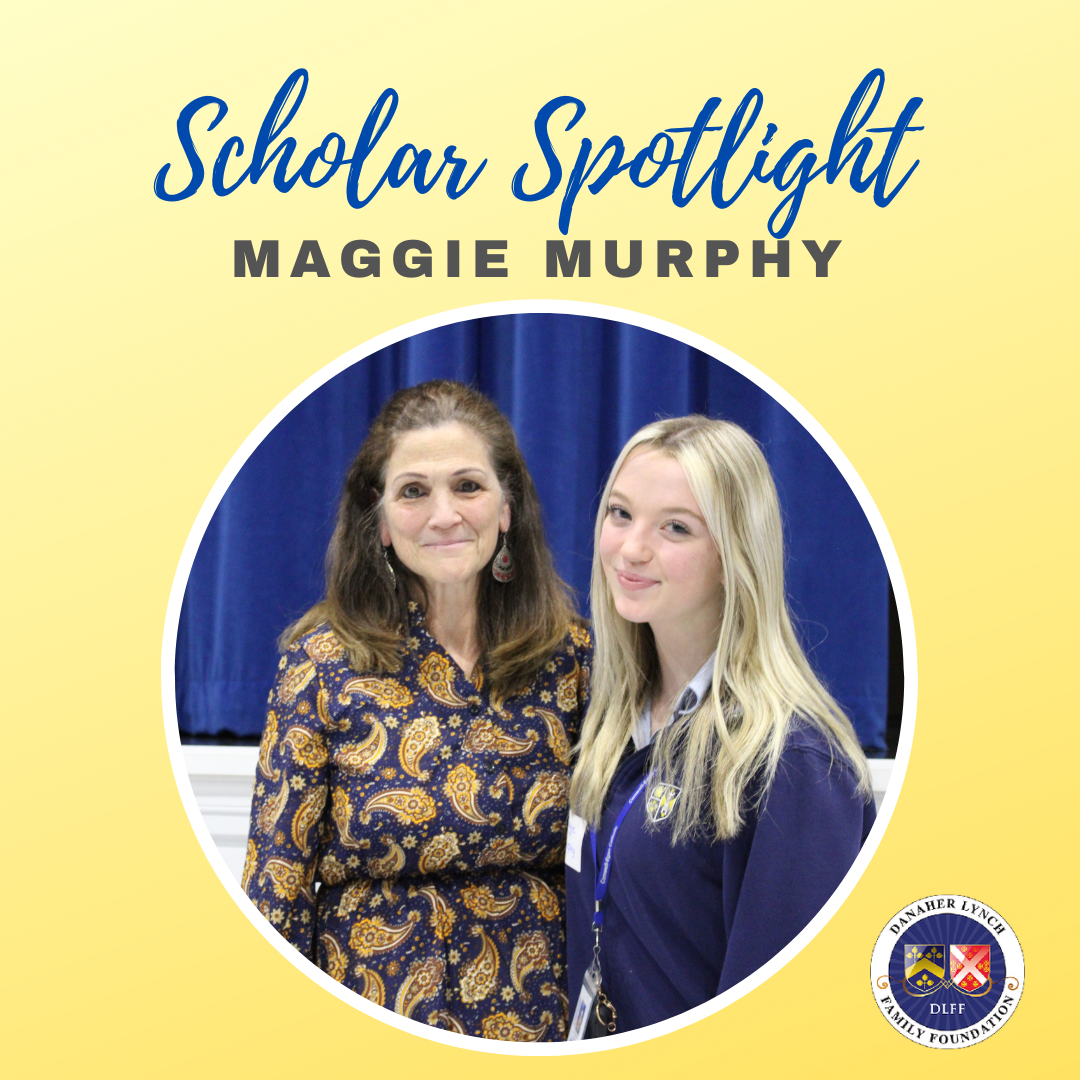 Cheryl Campbell, founder and president of The Christmas Gala with DLFF CEC Scholar Maggie Murphy (Class of '25)
As a part of our Scholar Spotlight series, we sat down with DLFF scholar Maggie Murphy to get to know more about her, and various service projects that she's worked on within DLFF.
Maggie is a sophomore at Conwell-Egan Catholic High School (CEC). Outside of school, Maggie enjoys playing volleyball and traveling to new places. One of Maggie's biggest honors was being selected by her principal to deliver her 8th grade graduation speech. Some of Maggie's goals are to graduate high school and get into an excellent college. "I hope to live the rest of my life with happiness and peace. I hope to travel around the world" said Maggie.
Maggie mentions she is most inspired by her dad, "He inspires me most because of the challenges he's had to face in his life and how far he's come. He never fails to make me laugh and always supports me. He inspires me to become a better person more and more each day."
Back in December of 2022, Maggie and other scholars from the Creative Arts Service Team and the Christmas Gala Service Team came together for a "Christmas Carol and Cheer" event, where they visited senior citizen homes and adult day centers to help spread Christmas cheer. There, the scholars sang Christmas carols, made Christmas crafts, and passed out gifts to the residents.
Maggie mentioned that her favorite service project thus far has been the Christmas Carol and Cheer event, "I loved seeing the happy faces of those who we sang to, and how they sang along with us."
Maggie was nominated for this week's Scholar Spotlight by Miss Cheryl Campbell, founder and president of DLFF partner The Christmas Gala. During the team's visit at Active Day Center, Maggie stood out to Cheryl for her kindness and going the extra mile to make someone smile. Cheryl mentioned, "During our adventure at the Active Day Care Center, I was walking around watching the scholars interact with the adults. I saw this young lady helping a man with his craft. The craft was making a snowman ornament for the holidays. After they completed the craft, Maggie stood with this man and chatted with him. He then asked her if she would help him walk to the tree to hang his ornament that he had just made. Maggie even went to the staff asking if this would be okay. I watched her stand behind him and even at one point had her hand up behind him in case he fell. She then helped him put the ornament on the tree and stepped back to admire his craft," added Cheryl.
"I love the feeling of overwhelming satisfaction when I see the thankfulness on the peoples faces when I help them" said Maggie.
"When I started doing the visits and partnering with schools, this has always been the idea - to see what I have envisioned come to life makes my heart smile. As I am sure it does DLFF," said Campbell.
DLFF is grateful and proud to have scholars like Maggie in our program that are committed to helping others and spreading joy. Maggie adds, "I just hope to be the best DLFF scholar that I can be throughout my four years at Conwell-Egan."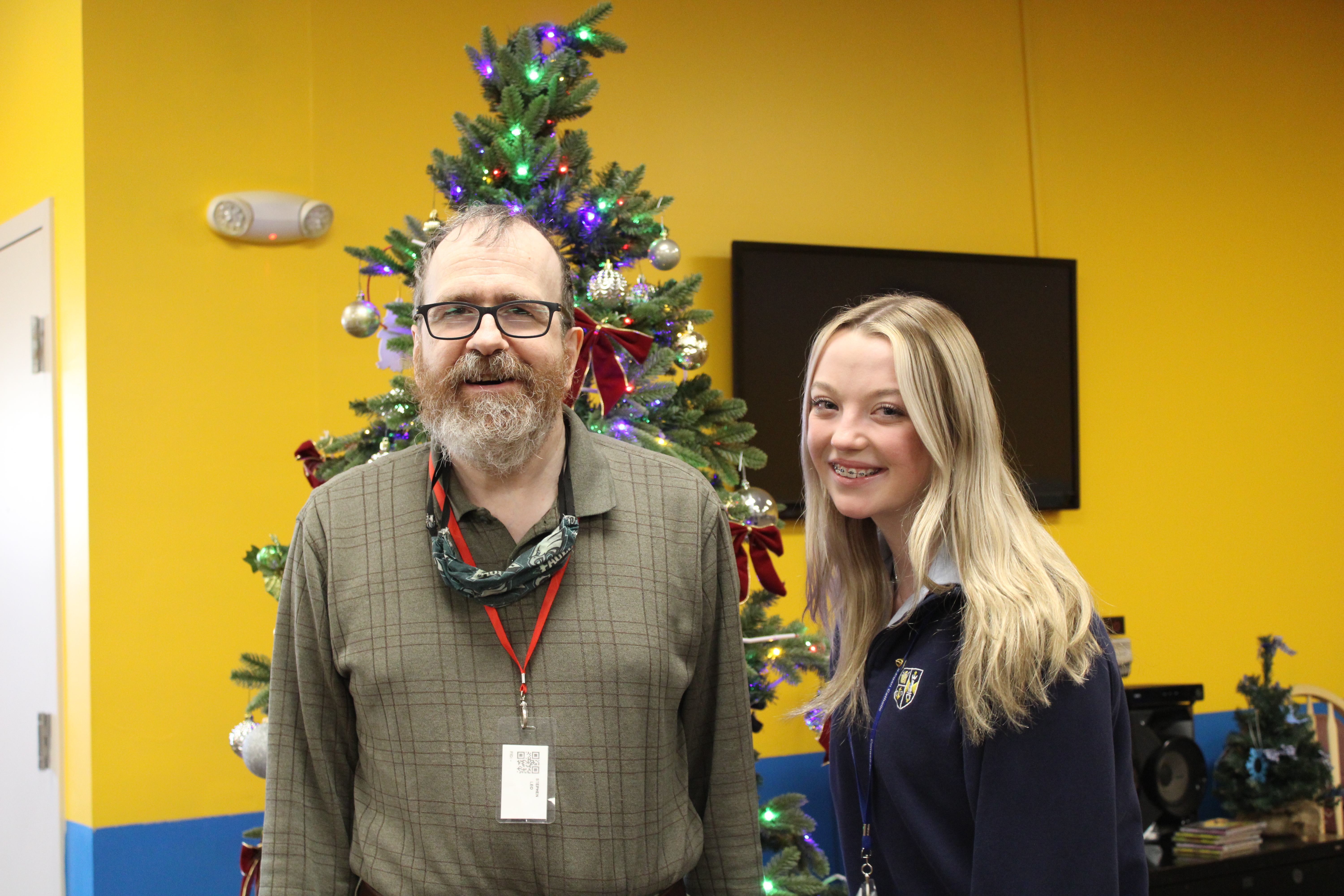 Maggie Murphy with Active Day Center member infront on Christmas Tree.