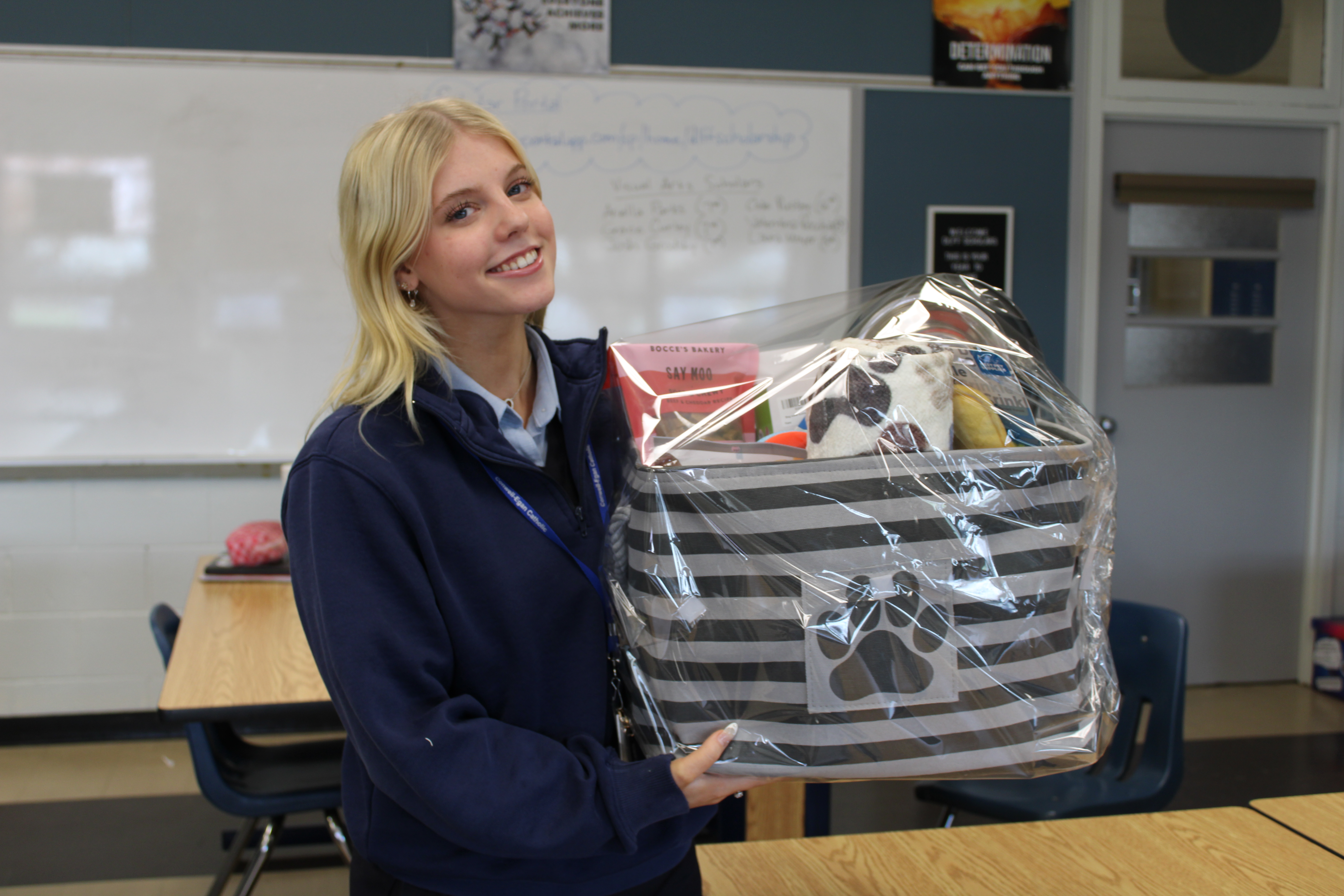 As a part of our Scholar Spotlight series, we sat down with DLFF scholar Vanessa Poland to get to know more about her, and various service projects that she's worked on within DLFF.
Vanessa is a Sophomore at Conwell-Egan Catholic High School (CEC). Outside of school, Vanessa enjoys playing Field Hockey, shopping, and spending quality time with friends and family. Vanessa mentions one of her biggest achievements is her CEC Girls Field Hockey team being named District 12 Champions for the 2022 season. Some of Vanessa's goals upon graduation include to get into a good college somewhere near the beach, and she wishes to travel to different countries to experience how other people live around the world.
Vanessa mentions she is most inspired by her mom, "My mom inspires me the most because she made me into who I am today. She has taught me everything I know and always has a smile on her face."
Vanessa recently worked on an individual service project, collecting new dog items for a raffle basket that was auctioned off at the Annual Habitat for Humanity Event: Hard Hats and High Heels, which took place on Thursday, April 27.
Vaessa was approached by DLFF's Director of Community Outreach, Mrs. Pam Lynch, about this service project, because she knew Vanessa has a true love for animals and a passion for service. Vanessa created an Amazon Wish List for dog items that would be good for the raffle basket, then DLFF board and team members purchased items for the basket. Vanessa also reached out to local pet stores to ask for donations to contribute to the basket. Once Vanessa had gathered all of the donations, she put the raffle basket together for the Habitat for Humanity auction.
"I am very proud of Vanessa's initiative with this project. I knew I could rely on her to put together a basket that any dog lover would want to bid on," said Mrs. Lynch. "Vanessa was an excellent communicator during the project and embraced the opportunity to call local pet stores for donations. It is not an easy thing to ask strangers for donations but Vanessa approached it well with open arms and excelled."
Mr. Brendan Harvie, Donor Relations Associate from Habitat for Humanity, stopped by CEC to pick up the dog themed raffle basket. Mr. Harvie was very appreciative of our support and said that all proceeds will benefit Habitat for Humanity's programs.
"I love dogs and animals and knowing I can help a family and their pets means so much to me. While putting together the basket, all I could think about was how happy a family will be to receive the gift," added Vanessa.
The raffle basket was a very popular, in demand item that was auctioned off for over $200, raising money in support of safe, affordable housing in Bucks County.
Not only will the basket benefit the family who wins the basket, but also the lives of those touched by Habitat for Humanity in Bucks County.
Great work, Vanessa!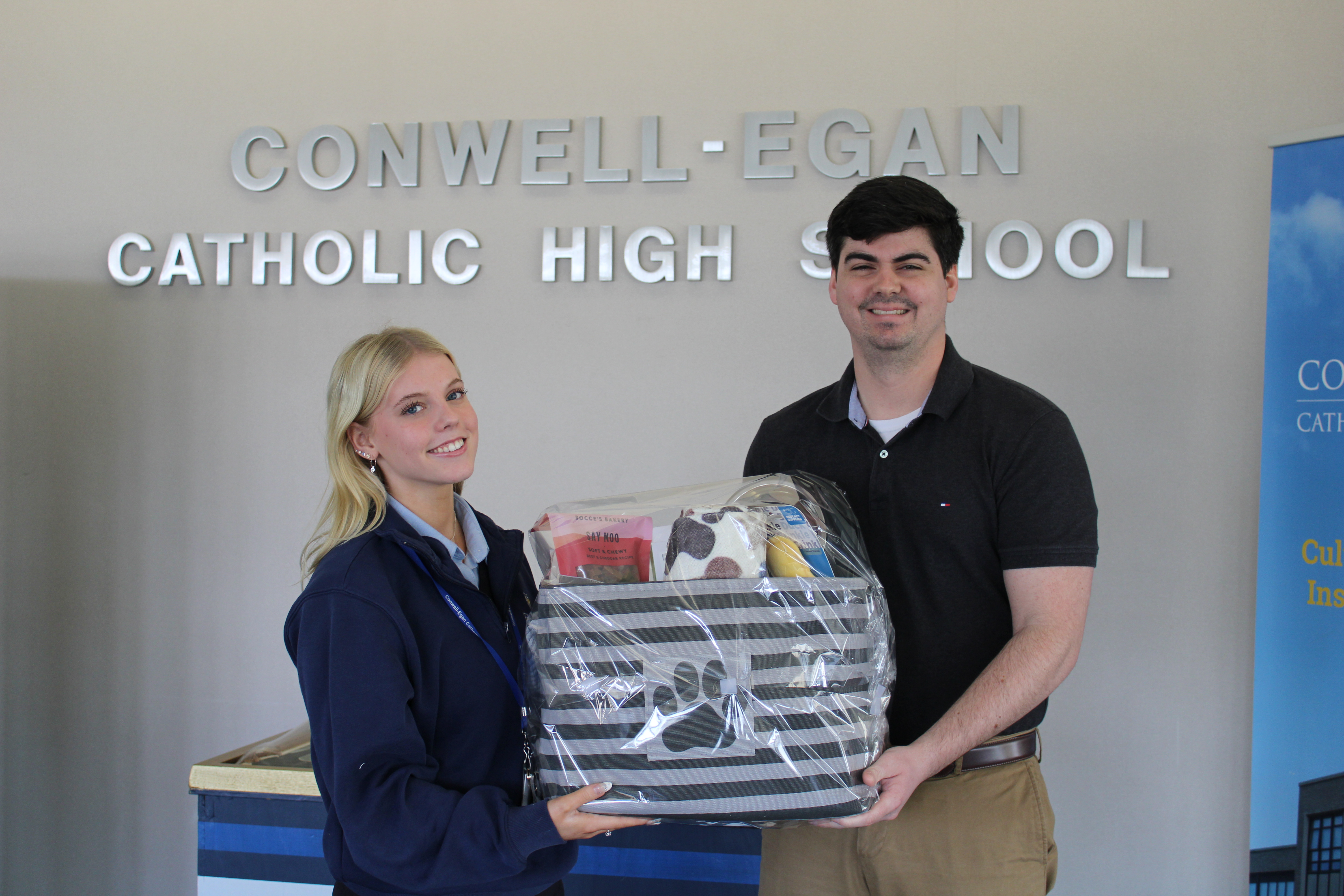 Vanessa Poland with Brendan Harvie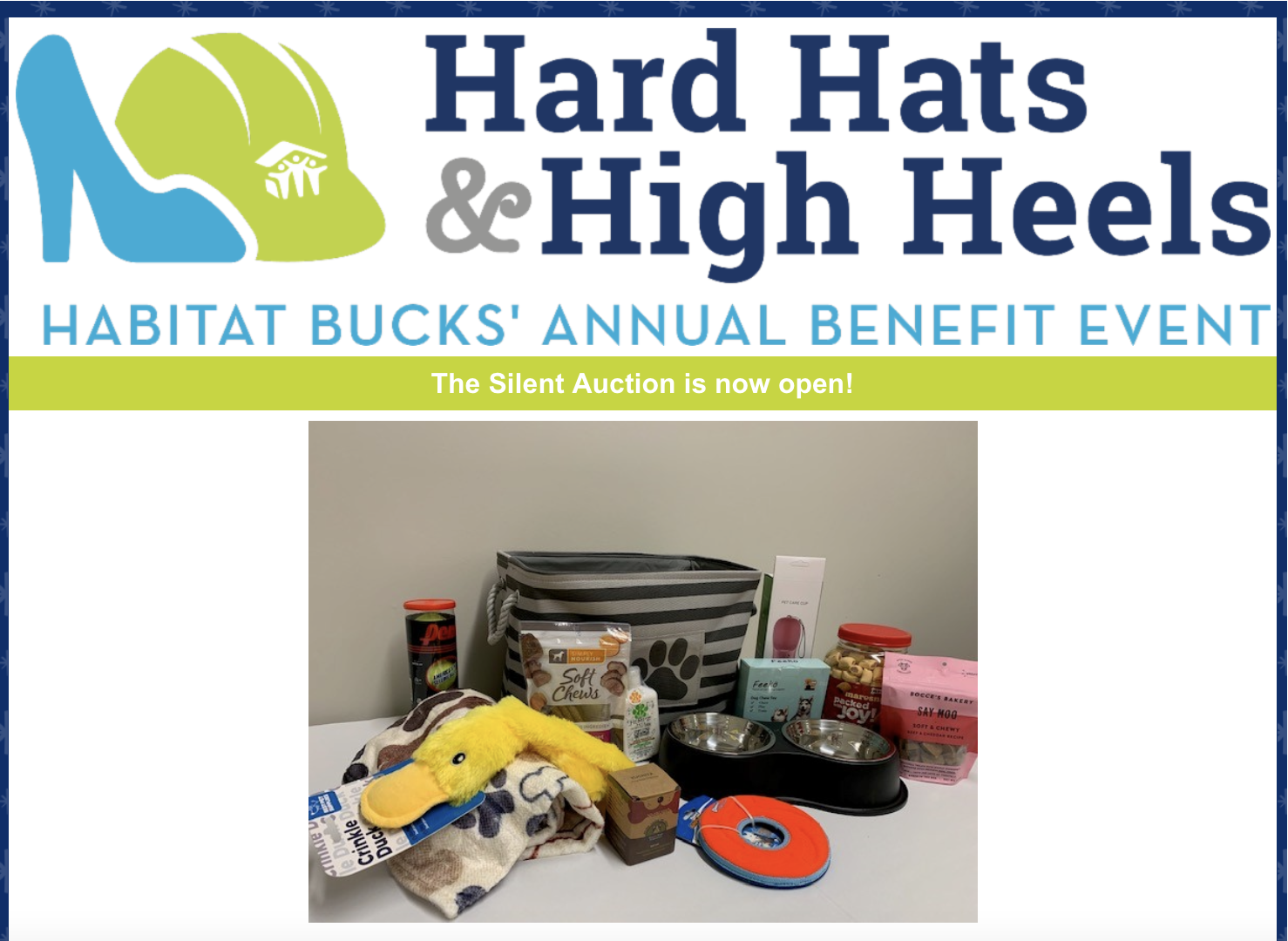 Man's Best Friend Basket for Silent Auction