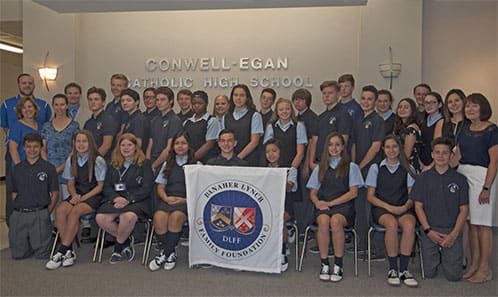 DLFF CEC Scholarship
We believe that Conwell-Egan Catholic (CEC) is a critically important part of the education network in Lower Bucks County. CEC provides an exceptional experience for the whole student through their academic programs, spiritual environment and multiple opportunities for students to become involved in their school community.
The Danaher Lynch Family Foundation is pleased to offer DLFF CEC Scholarships for students entering their freshman year at CEC. Applicants may be considered for one of three types of scholarships: The DLFF Community Scholarship, The DLFF Visual Arts Scholarship, or the DLFF Performing Arts Scholarship. DLFF CEC Scholarships are valued at $2,000 per year and are renewable for four years at CEC if the recipient is compliant with the DLFF Scholarship Policy.
A DLFF CEC Scholarship is more than a tuition award. Our recipients become DLFF Scholars and members of a vibrant organization committed to unleashing potential through awareness, participation and opportunity. We, at DLFF, strongly believe in selecting students that are committed to demonstrating initiative and playing an active role in their school and community. Through this commitment, students develop lifelong leadership qualities and value the importance of giving back to their community.
In order to be eligible for a DLFF CEC Scholarship, all applicants must have filed both a CEC application as well as a Facts Grant and Aid application with Conwell-Egan Catholic. Any questions regarding these application systems can be directed to Ms. Kate Rice, CEC Director of Admissions at KRice@conwell-egan.org.