"We look forward to working with our growing family of scholars. We hope to create an educational partnership with our recipients and their families. Investing in our children is the best way to invest in the future."
Susan DiLisio, Executive Director
Danaher Lynch Family Foundation Scholarship
The Danaher Lynch Family Foundation provides support to educational institutions in the greater Philadelphia area with a special focus on the Catholic educational system in Lower Bucks County.  It is our hope that we can strengthen their vital role in developing a values based education and academic excellence for the young people in our community.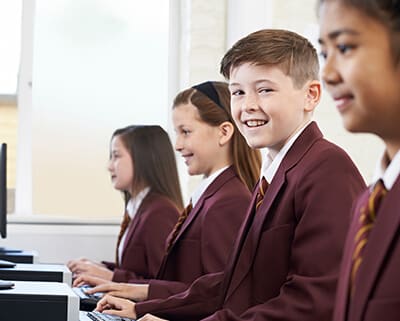 DLFF Pathway Scholarship
This $1000 scholarship award is part of a program that DLFF is currently offering to students entering sixth through eighth grade in participating Catholic elementary schools in Lower Bucks County. For the Pathway Scholarship recipient, it is a renewable award through eighth grade and those chosen as Pathway Scholars are given significant consideration for a DLFF/CEC High School Scholarship upon application to Conwell-Egan Catholic High School.
Contact your school for more information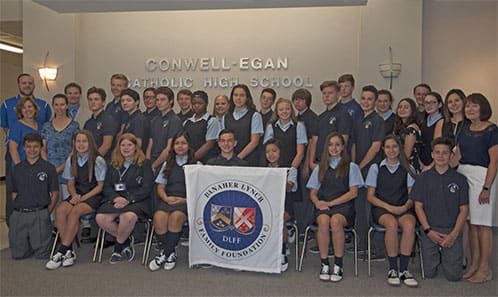 DLFF CEC Scholarship
We believe that Conwell-Egan Catholic is a critically important part of the education network in Lower Bucks County. CEC provides an exceptional experience for the whole student through their academic programs, spiritual environment and multiple opportunities for students to become involved in their school community.
This $2,000 scholarship is offered to incoming freshman students for their four years at CEC. Two types of scholarships are available: DLFF CEC Traditional Scholarship and DLFF CEC Fine Arts Scholarship. Both awards are renewable for four years at Conwell-Egan Catholic High School as long as the student remains in good academic and financial standing.
Apply
The application period for the Class of 2022 is now closed. Please check back in the future to apply for the Class of 2023.
More Info
For more information on our scholarship program, please contact Kathy Shegda, Director of Educational Services at kathy@DLFF.org or Sue DiLisio, Executive Director at sue@DLFF.org.